WhoWhat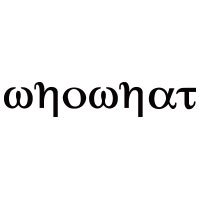 WHOWHAT is the symbol which evokes own previous most primitive transcendental judge "who and what" are on the way of investigating or cipher.
It's free to be innocent and have that, and I'm wishing that I have that and it's unique and that there is able to be, hold the work which hauls on thread of light and am developing WHOWHAT.
Everything with the one by which I have the intention stolen by the flower which blooms in a field abruptly, look up at the sky and grasp a stone and the distance which doesn't change at all is product of art life for that.