PE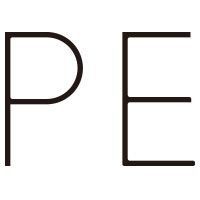 PE is a series of handmade products designed by Nobuhiro Sato that fully utilizing polyethylene materials,
an approach to industrial materials with the techniques of craft and artisanship. The name of the brand—pronounced "pe"—is an abbreviation
for polyethylene.

Melting and welding a number of colored plastic bags together with a household iron and soldering iron, each product is made with care and
attention to detail.

All the products are meticulously designed and produced by hand by Kyoto-based craft designer, Nobuhiro Sato.
The production methodology is simple yet highly distinctive. Using different sized household irons, over time polyethylene films are welded and
laminated into many layers.

This results in changes to the texture depending on the number of polyethylene layers, the iron temperature and pressure,
as well as the ironing motion, reflecting the detailed and delicate sensibility of the designer's hands.

Natural shrinkage, wrinkles, unevenness, and unique texture are all characteristics of the product.
The worldview of the product is also enhanced by the glossy plastic surface and vivid color choices.
PE's simple design highlights the material itself and prunes away unnecessary decoration.
The designer started experimenting with the processing method and materials from 2007, releasing prototypes which were followed by
the launch of the brand in 2010.