kamimitate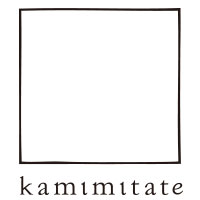 ■The mosquito Mimi length as which kamimitate -paper is judged- paper on which I lay eyes certainly somewhere every day.
It was written and broken, the paper if killing, which made it and made the living abundant as Toul to color,
spread with the character and hand our wisdom down from generation to generation.
But "paper" as a gorge in chi tries to take the role over in other media now.
So kamimitate thought I'd like to look again once more about paper of the close existence.
It isn't a tool of chi which shouldered the character, to the light and flexible expression which is since Kamimoto.
kamimitate would like to make the new form of the paper while listening to the voice in which I lie in the paper.
■MOLDED PULP kamimitate gazed at the material as" moulded pulp product".
Mold= "the type" made them dissolve the wastepaper by which Pulp= "the fiber used for a paper making" became fibroid dispersively in
the meaning of the moulded pulp product, and after stuffing the style, the shape is finished by making them dry.
The journey is also similar to the view snow and sand are estimating.
A memory is stored by reused paper.
Mistake and piling... in time of snow, sand, a footmark and a car MOLDED PULP is also the production system of cyclic type that the one
carved in us is forming the shape of the memory.
http://kamimitate.com/